Enter zip code to learn if we service your area:
Wood Stoves in Southern Vermont and New Hampshire
At HB Energy Solutions, we have done extensive research to find wood stoves that are energy–efficient, durable, and affordable. We found stoves that have these qualities and come in a variety of designs to fit many decors. We install, replace, maintain, and repair all types of wood stoves.
If you are looking for a quality wood stove, give the experts at HB Energy a call any time. Our entire staff is always available to our customers for any questions, and we offer free estimates on installations. Call today if you would like to speak with one of us about our wood stove services.
Pacific Energy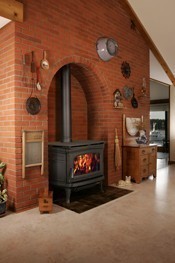 HB Energy stands behind Pacific Energy wood stoves because their high–efficiency and clean–burning wood stoves are hand–crafted and built to last. They are continuously innovating wood heating technology, and they offer a limited lifetime warranty.
We offer the Alderlea T6 cast iron stove by Pacific Energy, which features their patented Extended Burn Technology (EBT). This technology provides overnight burning with maximum heating capacity. It also features a large glass door for better viewing, as well as a large cook top surface for warming food.
If you would like to speak with one of our wood stove experts about the models that we carry, call us any time. We can also provide you with a free Pacific Energy brochure.
Enviro Gas Stove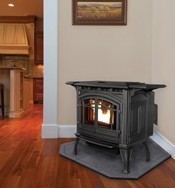 In addition to wood–burning stoves, we also offer Enviro gas stoves that feature the EmberGlo burner system. This allows the Enviro stoves to produce 30,000 BTU's of heat with an 82% efficiency rating for heating up to 1600 square feet. Theses stoves also feature easy access control panels, a battery–powered ignition system, cast iron doors with easy–off glass for cleaning, and they are thermostat or remote control compatible. You can choose from 4 porcelain enamel color options: Antique White, Inferno Red, Diamond Black and Antique Chestnut.
Call the gas stove specialists at HB Energy to learn more about the specific models that we offer and install.