Enter zip code to learn if we service your area:
Air Conditioning in Southern Vermont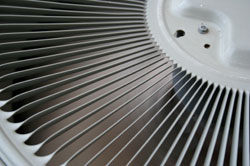 There are many options for air conditioning your home or business. HB Energy Solutions offers central air conditioning systems and ductless split heat pump installation and maintenance services for both residential and commercial applications. Call us any time for a free estimate!
Ductless Split Heat Pump Installation
Ductless split heat pumps offer high efficiency HVAC for homes without space for ductwork along with a number of other benefits. Ductless AC also provides zone control and air filtration on certain models. One of the first and most substantial benefits you will see when choosing such a system is that it is so flexible. You can install a ductless split system almost anywhere in your home. The system is comprised of a condenser unit outside and numerous satellite units inside.
Instead of cooling air at the air handler with a larger evaporator coil, a ductless system pumps the condensed refrigerant to the satellite units where air is cooled and blown into your house directly. So, the process not only eliminates the need for ductwork, but it also makes it possible to have multiple satellite units located throughout your home.
If you are interested in learning more about ductless split heat pumps and how it can benefit your home or business, it is time to call the experts at HB Energy Solutions. We can help you select the right system for your home and then ensure it is properly installed and well maintained for years to come.
Saving Energy
There are many benefits to choosing a ductless split system for your home or business. Not only does this make installation possible in smaller homes, but also it makes it possible to zone your home and manage cooling much more efficiently. On top of that, the cost of operating the system is much lower. Ductless systems have SEER ratings of up to 26 because they do not lose any efficiency due to ductwork.
We also feature Introducing the STAR Lineup of Ductless Air–conditioning and Heating Units. Call the AC specialists at HB Energy Solutions today to learn more about the savings you could get with a new ductless AC system.
Air Conditioning Maintenance and Repair
Once you have a central air or ductless split heating and air conditioning system installed in your home or office, it can be maintained with annual visits and a small amount of owner–maintenance on a monthly basis. Because the system is used year round for both heating and cooling, it is often recommended that you have maintenance performed twice a year. It is also recommended that you call for repairs as soon as you notice problems such as a drop in heating or cooling efficiency or a single unit not working properly.
If you are interested in learning more about our air conditioning installation, maintenance or repair services in your area, call HB Energy Solutions today!