Enter zip code to learn if we service your area:
Project Details
Renewable Heating System
Project Specs
Location
Chester, VT
General Contractor
HB Energy Solutions
Year Completed
2011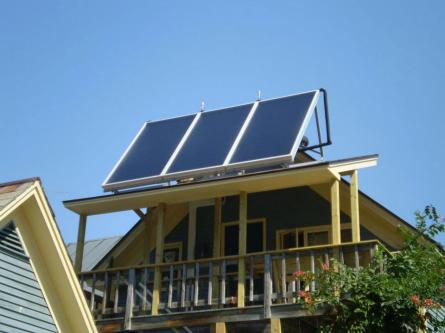 This Vermont family was looking to replace their oil fired heating system with a more environmentally and economically suitable alternative. HB Energy installed a Pellergy wood pellet boiler that is fed automatically from a metal 4 ton bin. Instead of emptying bags of wood pellets into the system, a specially designed bulk wood pellet truck blows the pellets into the storage bin. The bin is connected to a light upstairs that will signal when the family has approximately 2 weeks left of fuel in the storage bin and should arrange for a delivery. To reduce the amount of wood pellets burned in the Spring, Summer, and Fall, HB Energy Solutions also installed a domestic solar hot water heating system. This system heats the majority of hot water used for purposes other than heating, such as laundry bathing etc.