Enter zip code to learn if we service your area:
Project Details
Springfield Net Metering
Project Specs
Location
Springfield, Vermont
General Contractor
HB Energy
Year Completed
2012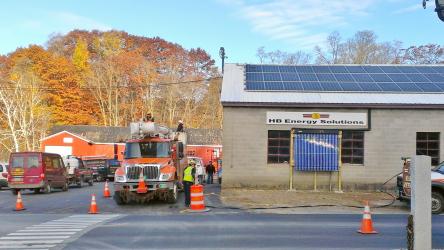 HB Energy has constructed a solar energy production facility located at their headquarters in Springfield, Vermont. The impressive solar system technology harnesses energy created by the sun to produce electricity. Approximately 150,000-185,000 watts of electricity are sent back to the grid. The solar system is comprised of three component parts, all located at HB Energy's recently expanded energy campus. The first sits atop a warehouse rooftop used to store wood pellets. The second component is located in what used to be an on-site parking lot. The third array location makes use of a field where a 500,000-gallon oil tank once stood and dominated the skyline. The presence of the new solar array represents the gradual changeover from fossil fuels to solar energy.
Mt. Ascutney Hospital and Health Center is the first to partner with HB Energy in this endeavor. A 10-year agreement will provide Mt. Ascutney Hospital with a guaranteed lower power rate that will not increase. The sun now generates a portion of the electricity used by MAHHC. Not only will the hospital see savings in their energy costs, but they also will have a fixed energy expense free from the volatility and fluctuation of the market.
The installation of electrical equipment and relocation of existing facilities allows the solar energy to go onto the existing grid at two different locations. GMP meters the amount of electricity that is created and sent back to the grid. As a beneficiary of the solar system, Mt. Ascutney Hospital is then issued credits for the power that is generated. The hospital benefits with a fixed rate that is lower than the cost of traditionally produced electricity.
One goal of the project is to demonstrate to the community how local energy generation can be built with minimal environmental impact and substantial local benefit. Several jobs were created locally and it is projected that several more will be required in the development of solar power. Much of the equipment needed to outfit the solar system was manufactured in the United States. As always, HB Energy is committed to developing our own solutions to the questions of America's energy needs by supporting American companies.