Enter zip code to learn if we service your area:
Portable Toilet Rental in Southern Vermont and New Hampshire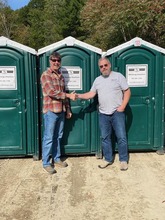 If you are looking for portable toilet rentals, call HB Energy Solutions. We provide a few different models, including special needs toilets, which are sure to suit your needs. Call us the next time you are hosting an event or party, and we can go over the different options.
Standard Portable Toilet Rental
For standard portable toilet rentals, we offer the Global model. All of these models are in green. Please feel free to call HB Energy any time with questions. We are happy to go over the features of this model.
Special Needs Toilets
HB Energy offers "The Senator" portable toilet, which is the ideal choice to use when full–service, full–compliance restrooms are required. Under ADA guidelines, the T–turn option requires less space than a full–turn radius that resulted in the larger, ADA–compliant units of the past. The Senator is easier to transport and place than any of its predecessors.
The Senator includes full width handrail assemblies that overlap most corners, adding strength and rigidity to the unit. A pneumatic door closer is balanced by a heavy–duty cable spring for comfortable, consistent, and predictable access. A ½" thick polyethylene extrusion floor provides maximum rigidity and near ground–level access.
Renting Portable Toilets
Whether you need a standard or special needs toilet, HB Energy Solutions can handle all your portable toilet rentals. We deliver and pick up. Call us any time to get a free estimate.