Enter zip code to learn if we service your area:
Boiler Services in Southern Vermont and New Hampshire
Whether you are looking for a boiler installation, replacement, repair, or maintenance service, HB Energy Solutions can take care of all your boiler needs! We offer quality brands, such as Buderus and Burnham, which are designed to provide efficient heat for your home or office. Call us any time if you would like to know more about our boiler services.
Understanding How Boilers Work
Boilers typically heat a home or office by circulating heated steam or water through a series of pipes and a baseboard or radiator–type heat exchanger. Unlike a forced air furnace, a boiler does not circulate air through the house. Where vaulted ceilings are involved, radiant floor heat is more efficient and provides a warmer and more comfortable area than furnace (forced air) heat. Instead of rising, the heat remains on the floor where it can be felt underneath all kinds of floor cover including: stone, wood, tile or carpet.
If you are interested in a new boiler, call the boiler experts at HB Energy Solutions. We can explain the installation process and go over the various models that we offer. We also provide free estimates, so call now!
Buderus Oil–Fired Boiler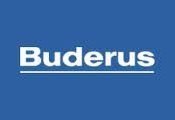 We offer both the Buderus oil–fired G125BE and G115WS models, which feature high efficiency ratings, low pollution levels, weather responsive energy management system, as well as chimney or direct vent options. The new Buderus boiler models also have improved room and water temperature controls for added comfort.
The Buderus product line includes various styles of condensing and wall–hung boilers, in addition to solar hot water heating systems. All of the high–efficiency Buderus boilers are eligible for a Federal tax credit and are ENERGY STAR compliant.
Burnham Hydronics MPO–IQ™ Boiler

The MegaSteam Oil Fired Boiler from Burnham has an AFUE rating of 86% AFUE, and they are available in various sizes to provide different heating capacities. Each model has the MegaSteam standard features, which include just a few of the following:
Jacket insulation to prevent heat loss and improve efficiency.
Quality boiler controls from Honeywell and the Hydrolevel.
Rear flue outlet to provide more space for steam pipe installation.
Industry–recognized Beckett AFG burner with cover.
Removable stainless steel baffle for easier maintenance.
Tankless water heater option for more efficient water heating.
Durable and long–lasting cast iron heat exchanger.
10–year limited manufacturer's warranty and a 5–year corrosion protection.
Call one of our boiler experts to learn more about the specific models that we offer from Burnham.
Boiler and Heating Experts at HB Energy Solutions
To learn more about our boiler installation and replacement options for your home, now is the time to call HB Energy Solutions. We can discuss all of your home heating options with you and help you select a system that matches your specific needs. Our technicians can handle all the maintenance and repairs for your boiler system, so call us today to schedule an appointment!