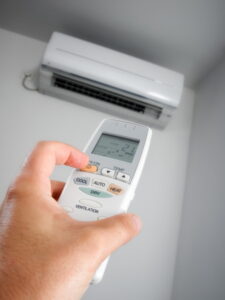 Have you considered the installation of a ductless mini-split for heating and cooling your home? If not, now may be a great time to do it. This type of system is perfect for some applications and homes, including increasing the comfort of add-on rooms, for older homes that don't have space for traditional ductwork, and for new builds. 
Before diving in and investing in this type of system, you probably want to know more about how they work. When someone thinks about a heating system that doesn't use ducts, they probably think of boilers. However, a ductless mini-split is a unique, forced-air heating system that blows heated (or cooled) air. You may wonder how this can happen without the ducts in place to distribute this air.
Ductless Mini-Split Units are Heat Pumps 
You must look to the system's core to fully understand how these units work. This is the fact that it is a type of heat pump. When the heat pump works as an air conditioner, it will absorb heat inside the home and move it outside. The blower fan then sends the cooled air through the ducts. When the heat pump changes into heating mode, the process is reversed. Heat is taken from outside the home and brought inside. The blower fan then sends the heated air through the ducts. 
With this type of system in place, you may be confused about how you can move from this process to one that requires ductwork. To fully understand this, you should look at the window AC unit. 
Many people still use window AC units. These are useful in older office buildings and apartment buildings; however, most homes can't rely on these alone for cooling since they use a lot of window space, aren't energy efficient, and are inconvenient to use. However, they do let you see how these units work without ducts – after all, ducts aren't required for these systems. 
With the concept of the window AC in mind, consider a series of air handlers that are mounted on the walls. Each of the air handlers includes a refrigerant coil and blower. The condensate line and refrigerant line pass through a small hole that is made behind the blower, and it is connected to a unit outside. Each of the indoor blowers hooks up to a single unit, which is where heat is exhausted (cooling mode) and absorbed (heating mode). 
When fully installed, the mini-split unit provides" point cooling" and "point heating," which are all centralized through the outside unit. The air handlers are mounted on the walls (often above windows), and each can be used separately from the others to heat and cool only the parts of your home that need it. 
Consider a Mini-Split for Your Home
As you can see, mini-split heating and cooling systems are a smart and energy-efficient method to heat and cool your home. 
If you're ready to use a mini-split as your primary heat source this fall and winter, contact HB Energy Solutions!