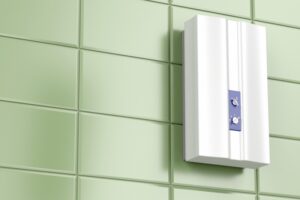 When you hear the term "water heater," your mind probably envisions a large tank full of water that's hooked up to multiple pipes and water lines, right? Well, what if you took away the tank? Would it still be a water heater?
Yes! The fact is, you don't actually need to have a storage tank full of water to get hot water in your home, thanks to the introduction of tankless systems.
A tankless water heater is pretty much just what it sounds like–it's a water heater that doesn't require the use of a tank holding multiple gallons of water. This is a great piece of technology with a number of benefits. If you're seeking a new, energy-efficient option for your water heating needs, then this may be just the system for you!
That said, they're not right for every home, but we invite you to learn about some of their key features to figure out if it's right for your situation. Read on as we uncover 4 reasons you might consider going tankless.