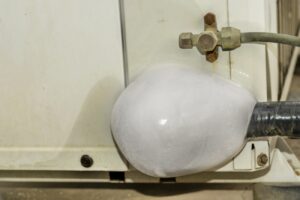 If we were to ask you where you expect to see ice, you'd probably say on the streets during one of our chilly winters, or in your freezer. These answers make sense! What doesn't make sense is seeing ice forming on your air conditioner. Perhaps you've never thought about this, and maybe the first time you see it you'll think it's normal, because after all, an air conditioner cools, right?
The problem is, ice is not a normal part of the cooling process. In fact, seeing it on your air conditioner is a sign of something going wrong within your system, and it needs to be fixed by a pro. Removing the ice on your own can damage it further plus not get to the root of the problem causing the ice. Therefore, your next step should be to call our team for professional Southern Vermont air conditioning services.
In the meantime, read on to learn more about this problem and what it means for your cooling system.