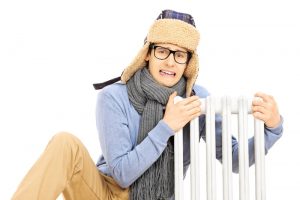 Winter is going to strike soon, and chances are that it is going to hit hard once it does. This is just part of living in New Hampshire, right? Well, we can all handle the cold temperatures and the snowfall, but it certainly helps to have a great heating system on your side. You don't just want your heating in New Hampshire to be effective and dependable, though. You also want it to be efficient. Our winter season is just too long and too cold to be overpaying for our comfort during the most frigid time of the year.
If you think that this is us greasing you up for a sales pitch, think again! We are certainly happy to replace your heating system for you, should a replacement be necessary. However, getting a more efficient heating experience does not necessarily mean that you have to make such a major investment. There are plenty of ways in which you can boost your heating efficiency, and that is what we want to focus on today.
Upgrade Your Thermostat
If you want to boost energy efficiency while replacing only a very small component of the heating system, then upgrading your thermostat is definitely the way to go. Notice that we said "small," and not "minor". While your thermostat is small in stature, it is also one of the most important parts of your heating system at large. It is the device through which you communicate with your system, after all. Upgrading to a programmable thermostat or a smart thermostat that is compatible with your heater can help you to start enjoying more affordable comfort.
Wrap Your Windows
It may not be the most aesthetically pleasing look — and it can be tough to keep intact if you have cats in the house — but some plastic sheeting over your windows can seriously help to eliminate heat loss in your house. You can buy this at pretty much any hardware store, including plastic that will shrink up and tighten as you run a hair dryer over it. When things thaw out, simply pull it all down and open up your windows for a welcome change of pace.
Use Your Ceiling Fans
They're not just there to help you cool off in the summer. You should be running your ceiling fans in the clockwise direction during the heating season. Simply flip the switch on the fixture to reverse the direction. That way, you can force heated air back down into the living space, rather than letting it get trapped at the ceiling.
Schedule Routine Heating Maintenance
This should not come as a surprise, given how much we love reminding our readers about the importance of routine heating maintenance. It does not matter what type of heater you use to warm your home. The only way that you can hope for that heater to run as efficiently — and reliably — as possible is to schedule routine heating maintenance each and every year.
Call HB Energy Solutions for all your energy needs. HB Energy Solutions delivers peace of mind.