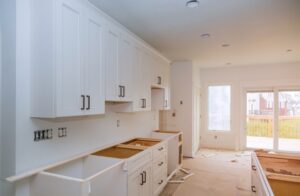 Are you having a new home constructed? This is an exciting time in your life! Whether you're creating your dream living space or your home is part of a new development going up, you have a lot of decisions to make, and you want to work with the right contractors to make your vision come alive.
Working with inexperienced or unlicensed contractors can cause more harm than good, especially when it comes to home systems such as your HVAC units, electrical, and plumbing. There are a lot of things you want to consider about your plumbing before starting a new construction project. Read on to learn what they are.
Consider Plumbing Materials
When you work with the right plumber, you don't need to worry about this factor. We'll do this part for you—that is, the part where we choose the best materials for the job. Many of the older materials used for plumbing corrode and rust too quickly, but we know exactly what to use.
We also know how to effectively install all the pipes, drains, and plumbing joints needed to keep your plumbing system functioning as efficiently as possible for the years to come. The biggest goal is to avoid leaks. Leaks are one of those problems that a newly constructed home should never have, but guaranteeing this starts with working with a qualified plumbing contractor.
Consider What Kind of Fixtures You Want
There are so many options today for new home construction and remodeling projects. There are systems out there that work much more energy efficiently than those of the past, bringing convenience to your household as well as lowering your utility bills. Your plumbing system is no different!
Consider making an upgrade to low-flow fixtures such as for the faucets in your bathrooms and kitchen, the shower heads, and even the toilet. They waste less water, lowering your carbon footprint, and they save you money as a result, too.
Consider Your Water Heater Options
The water heater that most people are used to seeing in homes within their neighborhoods and beyond are tank water heaters: water heaters with large storage tanks of water. These come in different sizes, and we can make the appropriate recommendations for you depending on your household's size and your water use needs.
Tank systems aren't your only option, however! Tankless systems are becoming an increasingly popular choice for homeowners. These are "on-demand" water heaters—the heat exchangers of these systems don't turn on and start heating the water until there is a demand for it from a tap or appliance within your home.
These systems are a great option for many homeowners, as well as the low-flow fixtures we mentioned above. Please don't hesitate to reach out to our team to explore your options. We're happy to go over all the systems we install and have seen installed.
Ready to schedule professional new construction plumbing services? Contact HB Energy Solutions for all your energy needs. HB Energy Solutions delivers peace of mind.