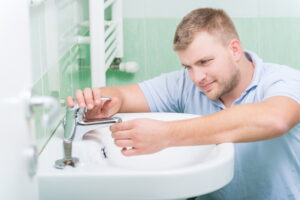 Oftentimes, professional plumbers get called to jobs where a homeowner has already tried to install or repair something on their own, or allowed an amateur to handle it, and it didn't go as planned. Trying DIY fixes can be a great solution for a good number of around-the-house tasks, but when it comes to your home comfort and efficiency, you really should leave the work to the pros.
A professionally trained and experienced plumber will bring a lot to the table that an amateur simply can't, and you'll see the difference in the quality of work provided. So what is it that sets professional plumbers apart? Read on as we uncover the answer!
Training Plus Experience
We alluded to this above, but the two main factors that a professional plumber will have is the proper training and experience to ensure they can manage just about any plumbing installation or plumbing problem you might have. This means that our plumbers have gone through on-the-job training and courses that ensure they know what to do with everything from a leaking pipe to a clogged-up drain.
Additionally, plumbers go through several years of experience working alongside a master plumber before becoming one on their own, so they truly have seen it all.
Licensing and Certification
Training and experience are, of course, vital components of a professional plumber! But you shouldn't just take your plumber's word for this. They should be able to back up their claims with the right licensing and certifications. This is especially true when they're doing work on things like main water lines and sewer lines, gas lines, backflow prevention devices, and/or any other plumbing components that would require some kind of permit.
The professional plumbers here at HB Energy Solutions do have this licensing and certification necessary to do any plumbing job you need.
The Right Tools and Safety Precautions
Professional plumbers will always have the appropriate tools needed to get every issue handled for your plumbing job. This includes installation components, and things like drain augers, hydro-jets, video lines for video pipe inspections, and more.
These types of tools are ones that only a qualified professional should manage, because in the wrong hands they can do more harm than good to your plumbing system, and potentially even yourself. When you hire a professional, you can rest assured that this professional will be able to do any job you need safely. This is especially important when it comes to gas line work.
Overall, hiring a professional plumber is going to make a huge difference in ensuring the job you need to be done is completed correctly and in an efficient manner. When you need a plumber for your home, you can trust the professionals on our team! We look forward to serving your needs, whether you need whole-house repiping, kitchen or bathroom plumbing installations, or even help relieving that stubborn drain clog.
Contact HB Energy Solutions for all your energy needs. HB Energy Solutions delivers peace of mind and expert plumbing service in Southern Vermont.