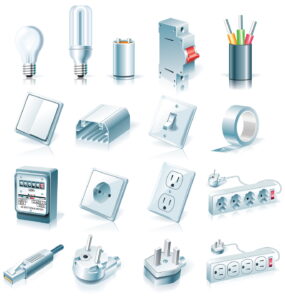 We've all been doing the same thing as you. Everyone is walking down the stairs or their hallway, passing by the calendar, and realizing the same thing—it's the spooky season! For many homeowners, this is the time of year when the pumpkins, gourds, hanging bats, and ghosts come out to haunt your lawn and bring some well-needed laughs or scares. Some people get their adrenaline rush from a scary movie, and others just want the candy!
However, there's one thing that shouldn't be haunting you this season, and that's the energy grid of your home. As your local professional electrical contractor, we'd like to help by making some improvements to your home's energy system and keep your home from scaring you!
Flickering Lights
Nothing will shake the heebie-jeebies out of someone like a flickering light in the middle of the night. This is probably a cliche in horror movies, but when it happens in real life, it's terrifying! Unfortunately, the problem isn't just that flickering lights are spooky, they're also a sign that something is wrong.
A light can flicker for a few reasons. The first can be that the bulb is dying which is an easy fix. If you've got lightbulbs in hard-to-reach places, you can call us to have them replaced too.
Lights can also flicker because there isn't enough power getting to the particular circuit. The light will start turning off because it can't stay on. This is a more sinister problem that requires professional electrical help to mediate.
Hot Spots on Walls
If your wall feels warm to the touch, that might sound like a good thing. Some people pay for heat to come from their floors and walls, after all. Though, if your home has a conventional forced-air heater, this is usually a bad sign.
You could have a leak coming from your hot water heater that's causing warm water to heat your wall. Or you could have an electrical wire that's warming up and causing a potential fire hazard. Either way, call our team to get this kind of problem checked out.
Power Surges
Power surges are also quite frightening, but for other reasons than just a power outage. Power surges can destroy certain electrical devices if your home isn't grounded properly. Your phone, computer, and your television are at risk of being overloaded by electricity through a power surge.
Luckily, the fix for this is pretty simple. We can ground your home's electrical system, or provide the installation of GFCI outlets that are grounded individually to stop this kind of problem from happening. Don't get spooked by power surge, we can help protect your home!
You May Need an Electrical Panel Upgrade If…
Sometimes the easiest fix for all of these issues is to upgrade your home electrical panel. If you've got old knob and tube wiring, or a fuse box that's seen several decades of use, then it's time to call us for an upgrade. Don't let your next power outage spook you and your family, regardless of the season!
When you're looking for a qualified electrician in Springfield, VT, you needn't look any further than HB Energy Solutions. Contact us today!