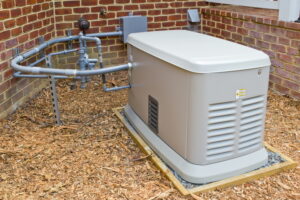 There are some things in your home that you hope you'll never need, but when you do need them, you'll be glad you have them. Your sump pump is one example. A fire extinguisher is another. And then, there's the generator.
Maybe you already own a portable generator. These systems come in handy for things like heating a cooktop on a camping trip or a tailgate party. They're not recommended—nor even considered very safe—for powering up your entire home in the case of a power outage. No, for that you'll want a whole-house generator.
But should you have one installed? Keep reading!
What Is a Whole-House Generator?
A whole-house generator is much larger than a portable system. While portable systems can be stored away, a whole house system will be installed outdoors next to your home as a permanent fixture, like the outdoor unit of an air conditioner.
Unlike a portable system, whole-house generators don't rely on propane or stored gasoline to provide power. A whole-house, automatic standby generator is connected to the main gas line running into your home, ensuring that it always has the ability to provide power to your home.
What does it mean to have automatic standby? Well, these systems monitor the level of power running through your electrical system at all times. This way, when that power goes out, the generator knows to automatically activate, suppling power to your electrical system and to your home. Then, when power is restored, the generator shuts itself back off.
The Benefits of Whole-House Generators
We've already mentioned one very big benefit—the fact that whole-house generators automatically cycle on when they're needed, and provide more than enough power to keep your home running.
Portable generators are comparatively smaller, and they're designed to provide only a little power—maybe enough to keep your home's lights on at least. But when we're in the middle of a scorching summer day or chilly winter night, you want more than that. You want your food supply to remain consumable, which requires your fridge to be powered. You also want to stay comfortable, meaning your HVAC systems need power too.
Contact a Professional for Your Generator Installation
Homeowners shouldn't try to install a generator for their home by themselves, whether it's portable or a whole-house system. If not properly ventilated, a portable system can have drastic effects on your family's health, and can even be a fire risk.
A whole-house generator installation involves working with the main gas line going into your home. Only a licensed professional should ever deal with this as we have the training and expertise to do so safely.
Lastly, whole-house generators are very large and heavy. The installation of one requires multiple technicians to install in order to prevent damage to the system as well as potential injury. Fortunately, you needn't look any further than our team for this service!
When you're ready for a generator installation, contact HB Energy Solutions to get in touch with a professional electrician in Springfield, VT.