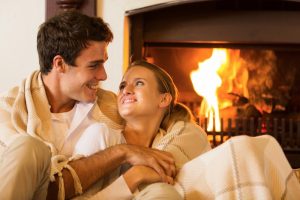 It was a beautiful summer in Vermont this year, but if you've been out and about in the morning or evening hours recently, you know that it's coming to a close. The fall temperatures are coming back around, and we know that a lot of you are welcoming them with open arms. Less welcoming may be your attitude toward the winter season. No matter how you feel about it, one thing is for sure—it's coming. Is your heater ready to handle the frigid temperatures again?
If you want to be sure of this, you need to schedule routine heating maintenance with our team. That will get your heater back into fighting condition. However, even the best maintained systems will still run into problems. It's just the reality of the situation. That's why we want to remind you of some early warning signs that your system is in trouble. When you know what those sounds of trouble look (or smell or sound!) like, then you'll know it's time for heater repair in Londonderry, VT.
1. Burning or Gas Odors
We're starting off with this one because you need to understand that some heater problems really can be dangerous. This is not a scare tactic to get you to dial our number and spend money. It's just a fact. Any system that burns fuel or uses electricity has the potential to create a dangerous situation when it malfunctions. If you smell a burning odor coming from a furnace, for instance, it could be the result of faulty wiring or some other issue posing a fire threat. It could just be dust burning off of a heating or combustion element too, though. If the odor lingers more than a few minutes, or has a plastic tinge to it, contact us immediately.
Any time you smell gas when running your heater, you should get out of the house and call the appropriate authority right away. We don't have much in the way of natural gas infrastructure in VT, but a lot of homeowners use propane to fuel their heaters. Obviously, such gases are combustible. That's the whole point! Just remember that any leaks can lead to dangerous situations in the house, from combustion to plain exposure.
2. High Energy Costs
Now, you are going to have to pay for your comfort during the coldest time of the year. Our winters are not what we'd call "mild" in our area of the northeast. Just because you have to pay doesn't mean you have to overpay, though.
If you notice that your heater is costing more and more to run, and you've been good about keeping up with maintenance, you may well have repair needs. Remember that not all issues are going to render your system inoperable right away. Some just drain your budget before causing more obvious problems.
3. Subpar Heating
We know that this sounds obvious, but if you're heater just isn't working as well as it used to, you probably need repairs! Obvious or not, too many homeowners convince themselves that "good enough" is "good enough." It's not!
If your heater is struggling to distribute heated air evenly throughout your home, if it is blowing cool air, or if it is short cycling, let us know. Winters around here are simply too cold for compromise.
Contact HB Energy Solutions for all your energy needs. HB Energy Solutions delivers peace of mind.