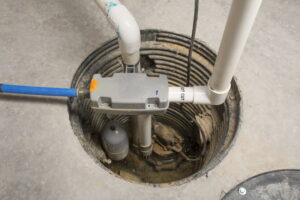 One of our goals is to always be here with helpful advice for our customers. This is the time of year that flooding from melting snow and heavy rain is quite common, and we want to make sure you're well prepared for that. One of the best ways to prepare is with regular sump pump maintenance.
You will need professional maintenance at least once a year to make sure your sump pump is functioning as it should. However, there are quarterly maintenance tasks that homeowners should do on their own as well. By doing this, you'll be able to rely on your sump pump and you'll know when to call us for repairs. But how do you do this? What are these maintenance tasks? Read on to find out!
Steps for Maintaining Your Sump Pump
With most forms of maintenance for your home comfort systems and appliances, we would advise that you trust only the pros. This is particularly true for your HVAC systems and the rest of your plumbing system. But when it comes to your sump pump, since you'll never know when you need it, it's important to check up on it a little more often than once a year, and here are some simple steps you can take.
Check That the Sump Pump Is in Proper Condition
First, check for any visual signs of wear and tear in and around your sump pump. This might include things like cracks in the case, or frayed electrical wiring. If you do notice this, don't try to repair it on your own—our technicians are licensed and highly trained to manage things like this.
You should also check to see that the pump is upright and that the cord is plugging into the right GFCI (Ground Fault Circuit Interrupter) outlet.
Add Water to Your Sump Pump Basin
Fill up the sump pump system with water up to the top of the pit. Your pump should automatically start working right away when you do this. If it doesn't start ups, then it means there's a problem that needs to be fixed by a professional.
Clean the Grate or Screen at the Bottom of the Pump
This grate is meant to trap debris such as dirt, leaves, and other items that can get swept down into the sump pump. However, this all needs to be cleared out every now and then. Otherwise it will clog up the drain and your sump pump won't be able to divert water out of your property.
Check the Drains
The drains of your sump pump typically either lead out of the basement of your home into the sewer line, or to your yard drainage system. If it's a yard drainage system that it leads to, then you'll want to make sure that the drainage can move freely and that there is not anything blocking the opening.
If you're unsure about anything when you're inspecting your sump pump, please don't hesitate to reach out to our team!
Contact HB Energy Solutions for professional plumbing in Bellows Falls, VT. We deliver a peace of mind!