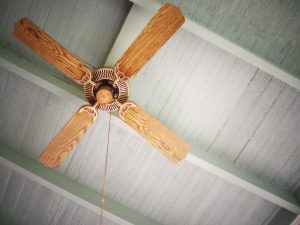 Seriously? There's a chain right on it! Just pull the thing!
Okay, okay. Most homeowners understand how to turn on their ceiling fans. That is not the subject of today's post, though. (However, if you were wondering, yes—there is probably a chain hanging down that you can pull!)
Today's post isn't about firing up the ceiling fan, it's about using the ceiling fan in the most effective way. And yes, it actually is possible to use a ceiling fan incorrectly! That may come as a surprise, but our Electricians in Alstead, NH have had to correct homeowners before.
So if you have a ceiling fan, this post is just what you need to ensure that you're getting the most out of your fixture. And if you've always been on the fence about a ceiling fan, or if you think that they're just an old-fashioned, outdated relic, this post will show you just how wrong you are! Read on to learn more. (more…)