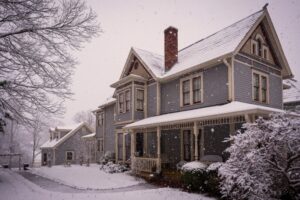 If you're new to Vermont, welcome! It's gorgeous here. Sometimes the snow sticks around a little longer than we'd like, but our summers can't be beat, and if you enjoy the outdoors, there are countless activities to explore. Plus, we'd be remiss not to mention the craft beer scene and the pride in our locally grown food!
But enough about us–we're sure you've heard it all, that's probably why you moved here!
Let's talk about your home. If you've never lived on the East Coast, then there are some things about your home that might be a bit different than what you're used to. Shoot, even if you lived down a bit further south there could be some things that come as a surprise–like basements! And what's in the basements of most Southern Vermont homes? Sump pumps. Read on to learn what you can expect, if you bought a home with a sump pump.
The Purpose and Benefits of a Sump Pump
The sump pump is installed at the lowest point of the home–likely your basement–and is designed to catch and expel water runoff that can occur due to flooding from rainstorms, snowmelt, or even plumbing leaks and burst pipes.
Sump pumps help to prevent water damage to your home, protecting other appliances and fixtures you may keep in the basement such as your HVAC systems, water heater, electrical equipment, and wiring.
There are different types of sump pumps, that essentially do the same job, but have different benefits depending on your home type. We can help you determine if your home is fitted with the right kind of sump pumps! Some use an electronic switch to activate, for instance, while others use a float. Some use a screen filter while others have an open intake.
"Do I Need to Inspect My Sump Pump?"
It's wise to have annual plumbing maintenance done, and with this service we will inspect your sump pump for you to ensure it's not damaged and that it can continue to effectively do its job. However, you should also be doing basic inspections as well.
We recommend checking on your sump pump and ensuring it's working as it should once a quarter, or after each time it gets used. When you check your sump pump, you'll want to:
Observe it to see if there are any visible cracks
Remove any debris, such as leaves, dirt, rocks, etc.
Pour water into it and see that it activates
Ensure that the water is actually leaving your home into your storm drainage system
Sump pumps are one of those systems that you hope you never need, but you'll be glad to have when you do! Properly caring for it is important, and HB Energy Solutions can help you do just that. Please don't hesitate to reach out to our team with any questions you may have!
Contact HB Energy Solutions for all your energy needs and professional services such as sump pump services in Southern Vermont. HB Energy Solutions delivers peace of mind.